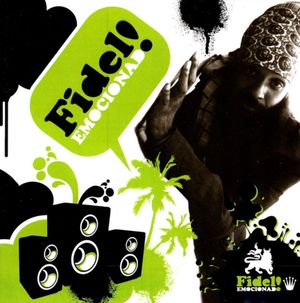 "Gracias por el tiempo que me das  
gracias por el tiempo que me das  
gracias por el tiempo que me dedicas  
gracias una y otra vez"
- "Gracias" Fidel Nadal
Collaborations
Reggae, rock, punk, ska, trap, rap, hip-hop, pop, cumbia, reggaeton...whatever the style, Fidel speaks the universal language of music. Throughout his career, Fidel has collaborated on projects and and recorded music of diverse genres with over 60 artists and groups from around the globe. 
*The list below is not a complete list.   
Argentina   
L-Gante
Damas Gratis/Pablo Lescano    
Bahiano
Los Caligaris 
The La Planta 
La Kuppe
Lady Ant
Joan Sprei
Dancing Mood   
Autenticos Decadentes   
Sinsemina 
Owin y Jack   
Pablo Molina   
Sergio Rotman
Butumbaba   
Un Kuartito   
Los Gedes   
Marcianos Crew  
Tikaf
Miranda
France/Spain   
Mano Negra 
P18   
Macaco   
Negu Gorriak   
Sensimilia 

Mexico    
Santa Fe Klan
Instituto Mexicano del Sonido
Los Angeles Azules  
Jah Fabio   
Los Tigres del Norte  
Tijuana No!   
Tufazo   
USA-Puerto Rico 
HR-Bad Brains        
Matisyahu  
De la Ghetto 
Mimi Maura     
Julio Voltio   
Hermanos Maloja 
Rey Pirin (not released yet) 
Tony CJ  
Quinto Sol
Natále
Jamaica 
Sizzla 
Junior Reid 
Mykal Rose
Mikey Dread
Kahlia 
Culture Brown 
Marla Brown 
Anthony B
Blackstarliner 
Rico Rodriguez
Jah Thunder 
Gyark Dixon
Junior P 
I Jah Bones 
Digital Sham 
Latticore
Al Pancho
Angel I
King Imani
cuba
El White
Bassic Division
Venezuela  
OneChot  
Desorden Publico  
Rekeson  
Zaperoco Sound System 
Pulga Negus Nagast
 
Chile   
Pablo Chill-E
Oskr T   
Conciencia Yo y Yo   
Crossfire 
Boomer 
 
Colombia     
Alerta Kamarada
Kino     
Hermanos Maluma   
Panama    
I-Nesta  
 
Nicaragua  
Carlos de Nicaragua  
Ghana 
Willy Wanta 
Egypt  
Ali Hassan Kuban
Japan 
3Peace
URUGUAY
The La Planta