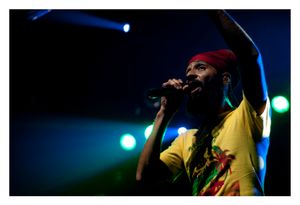 El tiempo es crucial, donde vayas lo podes notar 
no digan de la mierda es el hambre ni de la enfermedad 
es algo que se siente hasta cuando te cansás. 
Cuando en tu cama te acostás 
sabes que hay otro que esta noche no dormirá 
porque en la calle se retorcerán 
de frío y de hambre y hasta lo matarán.
Got something to share with Fidel? Or inquire about getting him to play at your venue? Send us an e-mail and we'll be in touch. Thank you!! Blessings!