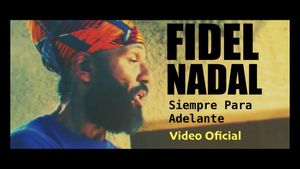 No, no nos verán abandonar
Claudicar, ni dejar  
Siempra para adelante vamos a estar  
Music available on all digital platforms * Disponible en todas las tiendas digitales
APR 16, 2021 - FIDEL NADAL FT. LOS CALIGARIS 
Get ready!! This 2021 Fidel will surprise again with an album that will revisit some of his most important songs of his 36-year career in collaboration with prominent figures of different musical genres from all over Latin America.   
In 2011, Fidel received two Latin Grammy nominations for Best Alternative Album Forever Together and Best Alternative Song "Te Robaste Mi Corazón."  
Enjoy the new release of Fidel's hit song featuring Los Caligaris!